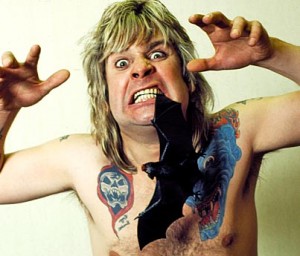 This past week in 2007, Black Sabbath front man Ozzy Osbourne was honored as recipient of the first star on the Birmingham Walk of Fame. Much like its Hollywood counterpart, the British rendition celebrates world-renowned natives that have performed at one of Birmingham's major venues and made valuable contributions to the entertainment, sports, and business industries. Osbourne's star was placed on Broad Street's canal bridge. Toni Iommi, the lead guitarist and only constant member of Black Sabbath, was honored as well in November of the following year. On February 19th, 1979, Black Sabbath appeared on Don Kirshner's Rock Concert to perform "Never Say Die." "Never Say Die" was their last single with Osbourne before his initial departure from the band.
While performing under the name "Earth", the band caught a late screening of the 1963 horror film Black Sabbath across the street from their rehearsal space. Inspired by the menacing material and a vision bassist Geezer Butler had of a dark silhouette lurking over the foot of his bed, the band began work on a new song of the same name. Leaning heavily on the tritone octave gave their work a darker edge, opposed to the trend of more pop driven tunes that were being produced in the current music industry. The band changed their name to Black Sabbath in August of 1969 and recorded their debut self titled album the following year, it has since been certified platinum by the RIAA.
Black Sabbath is widely considered one of the most influential heavy metal bands in music history and has sold more than 100 million records worldwide. Metallica band members James Hetfield and Lars Ulrich inducted the band into the Rock and Roll Hall of Fame in 2006 after eleven years of eligibility. Metallica is one of the many successful bands that have cited Black Sabbath as a major influence on their work. Others include Guns N' Roses and Alice in Chains. Sabbath was also a seminal force in sparking the grunge revolution in Seattle during the early 90's.