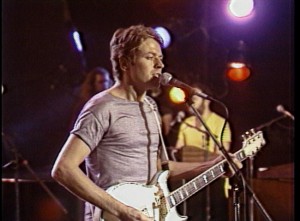 When one thinks back today on the late, great Robert Palmer, who died suddenly in 2003, its inevitably of the suave crooner in the 3-piece suit, fronting a band of fashion models in his classic mid 80's music videos. But Palmer should be remembered for more than this and, in fact, a good example of his broad musical range can be seen in his sole appearance on Don Kirshner's Rock Concert. It was 1980, and Palmer was on tour in support of his latest album Clues. Don Kirshner's on-screen introduction helps to fill in the back story:
"Rock and Roll seems an unlikely profession for one who received his education at the British Naval School. But it never seemed odd to Robert Palmer, and he's been proving it over and over again with a dedicated audience that has never left his side. Now with his hit single 'Bad Case Of Loving You,' Robert Palmer has grown from a cult figure to an important influence in the rock industry."
Performing underneath the massive Rock Concert logo, Palmer and his 4-piece band opened their televised set with the aforementioned hit single, which had hit the top 20 the previous year. Shockingly for those familiar with his now famous image, here he just wore a simple grey t-shirt and jeans, matching his appearance on the Clues album cover. On this song he was even playing electric guitar, something he would rarely do on stage in later years.
For their second song, they performed "Not a Second Time" from Clues, a semi-obscure Beatles tune which Palmer updated to reflect then-current new wave influences. About a half hour later, after the home viewer had enjoyed sets by The Manhattans and The Tremblers, Palmer returned to perform two more songs from Clues: the single "Johnny and Mary" and the hard-rocking "Sulky Girl," which showcased Palmer's distinctively powerful rock & roll vocal skills.
As it turned out, Clues was not a huge seller in the US, peaking at #59 on the Billboard album chart, which was quite a ways off from the #19 peak of his previous album Secrets. Follow-up albums Maybe It's Live and Pride both failed to reach the top 100, but success lay just ahead in the form of The Power Station, Palmer's massively-successful team-up with John Taylor and Andy Taylor from Duran Duran in 1985. This collaboration was immediately followed by Palmer's double-platinum album Riptide, which spawned the #1 single "Addicted To Love." Palmer continued to score big hits into the 90s, and was recording and performing right up to his untimely demise.
Never content to stay with one style of music for too long, Robert Palmer's Rock Concert appearances show him in the early stages of the winding road of his musical journey.