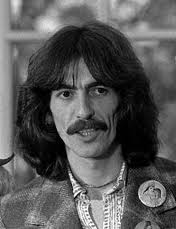 Once again legendary film director, Martin Scorsese puts together another great music documentary. The film, Living in the Material World, is about "The most enigmatic Beatle," George Harrison.
The idea for the film came to life in 2005 at the London premier of Scorsese's Bob Dylan Documentary, No Direction Home. Olivia, George Harrison's widow, expressed her wish to make a movie of that same caliber about her husband.
The Beatles story has been told many times before, however Scorsese captures this story from Harrison's point of view, with rare, unseen footage from archives kept by Harrison himself. From his desire to restore his country estate, to his work as a movie producer, to dealing with challenges in his marriage, the film shows a George Harrison outside of the Beatle mania and the music world.
The film features interviews by Yoko Ono, George Martin, Tom Petty, Eric Clapton, as well as, compelling interviews by the remaining Beatles, Paul McCartney and Ringo Starr. McCartney argues how people have mistakenly thought that he and John Lennon were the most important members of the group while in actuality it was George. Ringo Starr shares his sad experience of visiting Harrison during the guitarist's battle with lung cancer.
George Harrison was on a search for spirituality and a life fulfilled with anything other than material items. George wanted to have a simple life and this film demonstrates how he managed to live his way following his music career with The Beatles.