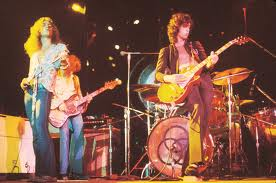 "In my opinion, next to The Beatles they're the most influential band in history…" – John Kalodner, Geffen Records
As one of the best-selling and most highly regarded bands in the world, Led Zeppelin's legendary stature in music history has yet to wane even slightly since the band's conception over four decades ago. Led Zeppelin raised the bar in the early 70's and set a new standard for rock and roll that would leave generations of musicians much to live up to. Over the years, Led Zeppelin has received numerous accolades and honors for its many achievements including a Grammy Lifetime Achievement Award, 4 Grammy Hall of Fame Awards, induction into the Rock and Roll Hall of Fame, and the No. 1 slot on both VH1's 100 Greatest Artists of Hard Rock and Classic Rock's 50 Best Live Acts of All Time, to name just a few.
Although they never appeared live on the show, footage from Zeppelin's 1976 film, The Song Remains the Same, was aired on Don Kirshner's Rock Concert on September 29, 1976. Featured selects included performances of "Rock and Roll", "Bring It On Home", "Wear Flowers In Your Hair", "Black Dog", and "Dazed and Confused." The astounding 25 minute performance of "Dazed and Confused" showcased some of the band's wildest stage antics, particularly Jimmy Page's technique with a violin bow.
Today, many view the film as an important piece of Zeppelin history and an early glimpse at the band's raw talent. All told, Led Zeppelin released nine studio albums, all of which reached Top 10 spots on the Billboard. They performed together from 1968 to 1980, officially disbanding following the death of drummer John Bonham.