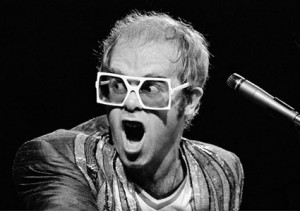 This week in 1975, Elton John released his ninth studio album and triple platinum selling hit Captain Fantastic and the Brown Dirt Cowboy. It is famous for being the first album in history to debut in the #1 slot on the U.S. Pop Album chart and is currently ranked #158 on Rolling Stone magazine's list of the 500 greatest albums of all time. Don Kirshner featured Elton John's videos for "Ego" and "Don't Go Breaking My Heart" with KiKi Dee on Don Kirshner's Rock Concert.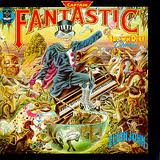 Born Reginald Kenneth Dwight, he began playing the piano at the age of 3 and by the following year had quickly developed to the point where he was performing songs, such as Winifred Atwell's "The Skater's Waltz," by ear. Upon winning a junior scholarship to the Royal Academy of Music at age 11, John began attending classes and continued his education there for five years. It has since been said by one of his instructors that after hearing a four-page piece by George F. Handel for the first time, John was able to play it back as if it were coming off of a "gramophone record."
Shortly after his studies at the Academy, John became a weekend pub pianist and in 1964 formed the band Bluesology with several of his friends. He would run errands in the daytime for a music publishing company to supplement his income. After a failed audition for the lead vocalist spot in the band Liberty, he was given a stack of lyrics and asked to write music for them. These belonged to Bernie Taupin, who would soon become a longtime collaborator with John. It was around this time that he changed his name to Elton John, in homage to Bluesology band members Elton Dean and Long John Baldry.
After teaming up with Taupin, the two signed on with DJM records in 1969 as staff writers. They wrote material for artists such as Roger Cook and Lulu. At the advice of music publisher Steve Brown, together they wrote and recorded John's debut album Empty Sky. His follow-up Elton John album reached number four on the Billboard charts, achieving gold certification by the RIAA and is listed among Rolling Stone magazine's 500 greatest albums of all time.
Elton John has since sold more than 250 million records worldwide. He has over 50 Top 40 hits, nine No. 1 hits, and seven consecutive No. 1 US albums. He has also won six Grammy Awards, an Academy Award, a Golden Globe Award, and a Tony Award. In 1994, he was inducted into the Rock and Roll Hall of Fame. Rolling Stone ranked him 49 on its list of the 100 greatest artists of all time.
Since the 1980s, John has been heavily involved with the fight against AIDS after the death of friends Freddie Mercury and Ryan White. In 1992 he established the Elton John AIDS Foundation and has used it to raise money and awareness about the disease.