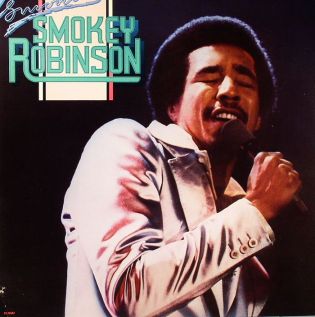 This Thursday, June 23rd, marks the 39th anniversary of the final performance of Smokey Robinson and The Miracles, one of the premiere talents of Motown. Robinson performed with The Miracles until 1972, eventually leaving to focus more on family and his duties as vice-president of Motown Records. Over the course of Robinson's career, he has amassed critical acclaim and commercial success with many Top 40 hits, inductions into the Rock and Roll Hall of Fame in 1987 and Songwriters Hall of Fame in 1990, and the title "King of Motown" by fans and music critics alike. Robinson appeared on Don Kirshner's Rock Concert August 3rd, 1979 to perform his classics "Ooo Baby Baby," "Share It," "Get Ready," and "Cruisin'."
Born William Robinson, Jr., the future music icon was nicknamed "Smokey Joe" by his Uncle Claude around the age of 6. An article published in Entertainment Weekly stated that this was to ensure Robinson would never forget his African American heritage.
Initially called The Five Chimes, Robinson formed The Miracles with high school classmate Ronnie White in 1955. Once established in the Detroit area, they changed their name briefly to The Matadors until officially settling on The Miracles. After a failed audition for Jackie Wilson's manager, the future owner of Motown Records, Berry Gordy, saw the group and recognized their potential. Gordy took Robinson under his wing and began polishing his songwriting skills, helping the group sign a recording contract with the End label. The Miracles debuted with "Got A Job," although not a national success, the record did well in their local community. Berry Gordy soon after opened Motown and quickly signed The Miracles. Their second effort with Motown, "Shop Around," was an instant hit, reaching the #2 spot on the charts and becoming Motown's first million-dollar selling record. This marked the beginning of The Miracles illustrious and influential career. The group changed their name to Smokey Robinson and The Miracles in 1965 when Berry Gordy began to notice Robinson's dominate presence at the front of the stage.
Upon MCA's acquisition of Motown in 1988, Robinson resigned from his position as vice-president; he recorded one last album with the label and then left, signing over with SBK. In 1999, Robinson returned to Motown to record "Intimate" and was awarded the Grammy Lifetime Achievement Award that very same year. To this day, he continues to record new music and tour around the world.