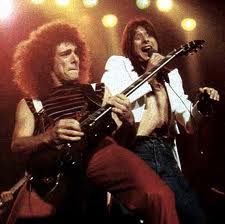 On July 19, 1978, Don Kirshner's Rock Concert featured videos for "Feeling That Way" and "Lights" by the band Journey. A year later on October 10, 1979, emerging through a haze of stage smoke, Journey returned to perform live on Don Kirshner's Rock Concert . The arena rockers played "Lovin, Touchin', Squeezin'" and "Loving You Is Easy," delivering memorable performance that riled up a sea of howling fans. In mid set, the entire audience partook in a massive wave across the theater.
Formed in 1973 by former Santana members, Neal Schon and Gregg Rolie, the band began performing around the San Francisco area as an instrumental group under the name "Golden Gate Rhythm Section." As the band started to gain a following in the Bay area, a local radio contest was held to find a better-suited name for the group and "Journey" was chosen. The newly named band soon signed a recording contract with Columbia Records and began work on what would prove to be an illustrious music career.
To date, Journey has garnered 19 Top 40 singles, 11 Platinum records, and achieved worldwide record sales exceeding 80 million. As one of the most celebrated bands of all-time, Journey has spawned many of music history's most inspirational hits such as "Don't Stop Believin'," "Any Way You Want It," and "Faithfully."
Despite the rotation of different musicians in and out of the band and the departure of powerhouse frontman Steve Perry, the band continues to perform and produce new music for its fans. Their most recent effort with singer Arnel Pineda, Eclipse, was released in May of 2011 and the band is currently on tour in support of the record.