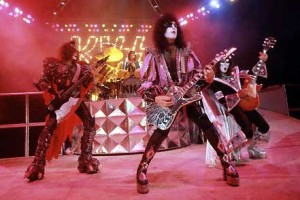 Known for their savage stage antics and flamboyant face paint and costumes,KISS is widely regarded as one of music history's most exhilarating live acts. Pyrotechnics, blood spitting, rockets, and smoking guitars are all ingredients of the standard KISS concert recipe that helped the band gain notoriety as they rose to stardom in the 1970s.
The original members, Paul Stanley (the Starchild) and Gene Simmons (the Demon) began playing together in 1971 in Wicked Lester, a New York-based glam band that quickly caught the attention of Epic Records. Epic signed the band to a recording contract and work began on their debut album later that year. However, when presented, the band's album was rejected by the label and quickly shelved, causing them to be dropped shortly thereafter. Hell-bent on finding a new musical direction, the band enlisted guitarist Ace Frehley (the Spaceman) and drummer Peter Criss (the Catman), to form KISS. KISS became the first band to sign with Casablanca and recorded under the label until 1982. The band then moved to Mercury to record through 1998.
Don Kirshner's Rock Concert in 1977 performing "I Want You," "Hard Luck Woman," and "Love 'Em and Leave 'Em." The band knocked out the performances filled with theatrics. The performances were so popular that Don Kirshner included a re-airing of "I Want You" on the show's anniversary program on April 7th of that year. Two years later on September 27, 1979, KISS was back on Don Kirshner's Rock concert when their music videos of "I Was Made For Lovin'" and "Sure Know Something" were featured on the show.
Over their near four decades as a band, KISS has sold more than 100 million records worldwide including 24 certified Gold, the most by any American rock band in history. They have been listed in VH1's "100 Greatest Artists Of All Time," MTV's "," and Gibson's "50 Greatest American Rock Bands." After an 11 year gap, KISS released their 19th studio album Sonic Boom on October 6, 2009, which became their highest charting record to date. The band has plans to release their 20th album, Monster, in January of 2012.