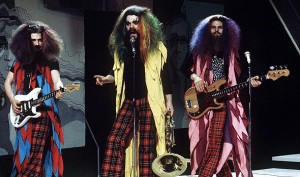 Virtually unknown in the US, Roy Wood is a rock icon in the UK, a legendary figure with a mastery of songwriting and a unique musical and visual style. He was never quite able to break into the American market though, despite frequent album and single releases in the 70's, and a US tour in 1974 that took him to the stage of Don Kirshner's Rock Concert. Kirshner was one American won over by his talents, as he explained in his on-screen introduction of the group:
"One of the great creative talents in music, Roy Wood refuses to stay pat and content. He keeps looking for and accepting new challenges. This performance is going to be a great visual experience for you. Full makeup and bizarre costuming, and great music. A great combination: Roy Wood and Wizzard."
Roy Wood had made his name in the late 60's as songwriter and vocalist for British rockers The Move, who had been #1 on the UK singles chart with "Blackberry Way" and scored numerous other British top 10 hits. 1970 saw the arrival of Jeff Lynne in the band, who joined the group with the understanding that The Move would soon embark on a new musical project called The Electric Light Orchestra. ELO's debut album in 1971 saw Wood and Lynne splitting singing and songwriting duties, which turned out to be an unsustainable arrangement for two such prolific songwriters. In mid-1972, Wood left ELO and formed his own group Wizzard.
Viewers tuning in to this episode of Rock Concert in 1974 could hardly have been more surprised with what they were presented. Wood's on-stage appearance was anything but ordinary, including multi-colored face makeup, a cape and plaid pants. The episode opened with Wood playing the tender ballad "But She'll Be Gone" on the acoustic guitar, supported by 2 flutes and a xylophone, with the band's bass and drums providing minimalist backing. This song then blended into a piece of Tchaikovsky's Nutcracker, with Wood playing bass clarinet. The crowd embraced the performance and gave the band thunderous applause, though it's safe to say that music like this was hardly the ticket to the top of the American charts!
The band's heavier rock stylings became evident on their next song "Angel Fingers," a #1 hit in the UK. This song saw Wood switching to electric guitar, and the band's two drummers playing at full volume. Wood then followed up with his solo single "Forever," which showcased his affinity for combining heavy rock 'n' roll with 60's doo-wop.
Wood picked up a miniature electric guitar for the next number, "Goin' Down The Road," an up-tempo tune with vaguely Scottish leanings. Wood incorporated a sax solo into this song, providing him an opportunity to leave the stage and return with his next instrument: bagpipes. Wizzard launched into an instrumental medley which saw Wood's bagpipes trading solos with the saxes and drums. After this, viewers were treated to sets by Redbone and Atlanta Rhythm Section.
Wood and company returned later in the episode, performing "This Is The Story Of My Love" from their-then current album "Introducing Eddie & The Cruisers." They closed the episode with an instrumental swing-jazz tune, giving the band's 2 saxophonists plenty of solo time. All in all, a crowd-pleasing yet undoubtedly bewildering set of musical selections. While Wizzard's US tour was evidently a successful one, it ultimately failed to translate into significant record sales. A planned follow-up tour in the US was cancelled by the band's management, who by then was focusing their attention and resources on Jeff Lynne's ELO. At this point, ELO was scoring multiple US top 40 singles and steadily increasing album sales. The tour cancellation, along with Wizzard's follow-up album being denied release by their record company, resulted in the band breaking up, and spelling the end of Roy Wood's long string of hits in the UK.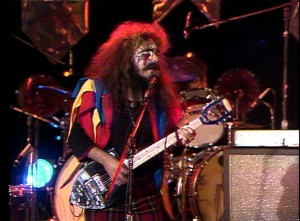 Roy Wood and Wizzard's appearance on Rock Concert gave Wood his only large-scale exposure to American audiences. This provided the US audience with a rare glimpse into the tuneful musical mayhem of Roy Wood.