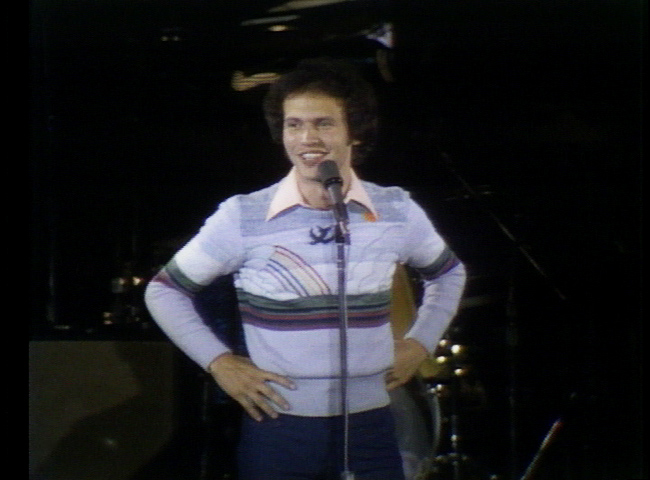 Before becoming a superstar, Billy Crystal, like many other young comedians of the 1970's, performed on Don Kirshner's Rock Concert. On January 1st 1975, Crystal appeared on Rock Concert to perform a standup between the musical acts of Natalie Cole and B.T. Express and clips of Led Zeppelin's rock film The Song Remains The Same. Dressed in typical seventies fashion, with blue bell-bottom slacks and a tight grey wool sweater, Crystal opened his act by "mistakenly" bumping his head on the microphone and pretending like the sound went out. He then launched into a bit that included quips about the audience's drug use and the struggles of life as a comedian. The performance was very well-received by the audience and it was clear that this would not be the last we saw of this young talent.
Sure enough, following Billy Crystal's appearance on Don Kirshner's Rock Concert, his career really began to gain momentum. He went on to land several TV roles, join the Saturday Night Live cast, host his own variety show, and appear on popular game shows. However, it was a string of hit movies in the late 1980's and early 1990's that really made Billy Crystal a household name. These well-known films included Princess Bride, When Harry Met Sally and City Slickers.
With the great success of his film career, Billy Crystal was invited to host the 1990 Academy Awards. One of the all-time great award show hosts, Crystal has since gone on to MC the Oscars 8 times – second only to Bob Hope's 18 ceremonies hosted. This year, Crystal has once again been chosen to host the 84th Annual Academy Awards.
Billy Crystal has had a tremendously successful career as an actor, director, writer and producer. Outside of his work in entertainment, he is also involved in numerous philanthropic causes and is well-known as an avid sports fan, often in attendance at Yankees Stadium or chatting up Chris Paul and Blake Griffin while sitting courtside at Los Angeles Clippers games.